Gay and Bisexual Chat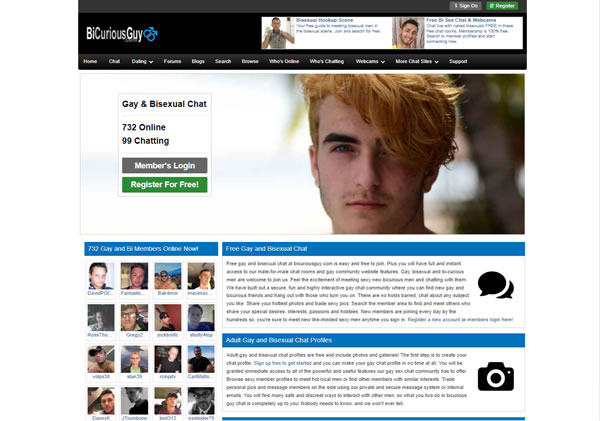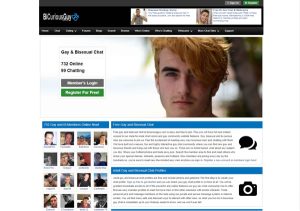 Welcome to gay and bisexual chat at Bicurious Guy, part of the underground of the gay, bisexual and bicurious dating scene. Joining is fast, 100% free and easy. In just mere minutes you'll be browsing gay and bicurious photo profiles for the hottest and most interesting members. This is quite unlike the club scene where you have to endure strobe lights, loud techno music, drunk patrons (with some unwanted advances). You won't have to shout over the music. Here, you can communicate in comfort and at ease. We welcome gay, bisexual and bi-curious guys in our interactive chat community. Share your sexiest photos with other members. With new members joining on a daily basis there will always be someone interesting to chat with. Register a new account or members login here!
Who's Online at Gay & Bi Chat
Gay Sex Profiles | Member Search | Who's Online | Member Galleries | Blogs
Gay and Bisexual Chat Photo Profiles
The gay and bisexual chat at Bicurious Guy features photo profiles, and galleries. This is a great way to check out all the hot guys. Meeting like-minded gay, bisexual and bicurious guys will inspire you when you talk about interesting subjects. Chat about your common desires, fantasies, kinks, fetishes, lifestyle issues, work and relationships and anything else that comes up. Here at bicurious guy chat you'll find a sympathetic crowd who can really relate to your situation and help lift you up.
Sign up 100% free to get started. Once you take advantage of our free join just head over and fill in you profile. You can always add to or edit your profile later so no stress. Best part is that you'll have immediate access to all of the powerful features of our gay and bisexual website and chat rooms. Browse through thousands of existing member profiles and even see who's new! When you see someone interesting just message them in private, or use our internal email system. Bicurious Guy chat offers many fun ways to interact with others and what you do here is your business.
Bicurious Guy Chat Rooms
Here at Bicurious Guy's gay and bi chat you have the solution to the pitfalls of meeting new bicurious, bisexual and gay men. In the bicurious guy members area, you can browse the list of chat rooms for stimulating ongoing conversations around the clock every day of the week. Just think of the excitement of waking up or going on a coffee break and opening up sexy new messages and joining in on stimulating chat conversations. No matter where you are you will have convenient access to our platform on any device whether it's a tablet, iPad, mobile, laptop or desktop. You can hold private message sessions, share your pics privately or with the whole community. We are glad you are here as a member of Bicurious Guy's Gay and Bisexual Chat – See you inside!
Explore Bi-Curious Guy's Site